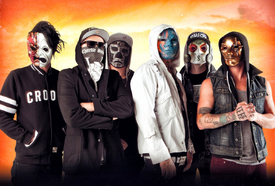 Charlie's bandana is the same as the one he was wearing during Desperate Measures but the black is replaced with charcoal grey.
Da Kurlzz's mask has a major difference. The mask is still half-and-half. The left side of the mask is white, and the right side is dark red with brown scales. The red half of the mask is supposed to resemble half of his face blown off and the white half to be melted. The mask lights up, making the blown off half mainly bright red. Neither of the faces feature the half smile like his previous masks did.
Danny's mask is similar to his old mask. It's still gold but less metallic. The Latin cross appears to be inverted and is made of bullet casings. The bullets are 6.5 Grendel. The darkening splatter has returned and it varies in color. The right side of the mouth still has the grin, but it's more noticeable now.
Funny Man's mask looks much like a the mask of a luchador (Mexican wrestler). It is black with a silver gorilla face as a reference to his nickname King Kong. Just like the previous masks this one features his initials "fm", now moved to his forehead and the three dots on the left. It was a cloth mask with two white laces that had "King Kong" written on them.
J-Dog's mask is white just like the other ones. It still features the patterns as his previous mask did, but they are now green and more visible. The mask still has the orange glowing ashy cigarette burn marks on the eyes. The big difference is that his mask now looks like a gas mask with two canisters on it. There is no real dollar bill on the mask, just a dollar sign. His mask now has the All-Seeing Eye on his forehead. Under the All-Seeing Eye reads "Hollywood Undead" instead of "Novus Ordo Seclorum." The mask lights on the ashy burning cigarette eyes and the canisters.
Johnny elected to make the mask look more human-like, as well as somewhat of an artifact. There is a chiseled pattern, as well as minor artificial dust. It is colored with a darker shade of blue. The "3" on the mask lights up in white and it remains large. The small monarch butterflies are gone and the previously black butterfly now takes away the majority of mask's right side. It also lights up in orange.