Shady Jeff
Talk

0
91pages on
this wiki
Shady Jeff (real name Jeff Philips) is a former member of Hollywood Undead.  
Shady Jeff

Real Name

Jeff Phillips

Stage Name(s)

Shady Jeff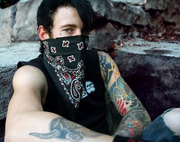 He, J-Dog, and Deuce formed the band back in 2005.
Some people think that Shady and Jeffree Star are the same people, but they are not.
He and the band members are not friends any more because Shady Jeff threw a party in his backyard, to which he only invited his closest friends and family. Deuce and Charlie Scene showed up with some friends, who Jeff did not even know. Deuce started acting aggressively towards everyone at the party and threatened to start a fight. When Shady Jeff said that, if he did not leave, he would call the police. Deuce laughed it off and said that he could beat them up anyway. Shady Jeff pointed a gun at Deuce, telling him to leave. He says that no one has the right to threaten him or his family, in his own house. Deuce got scared and started apologizing saying it was just a joke. Great way to celebrate your birthday! Later on, Deuce told the press about what happened and lied about the events. He stated that Jeff pointed a gun at him for no reason, trying to act like a gangster.
Shady Jeff made a video describing this and giving his viewpoint and opinions.
His masks did not vary very much. Similar to Charlie, his two masks were bandannas 
He wore one black bandanna pictured in the bio, with red and white patterns on it. He also wore a red bandanna, with similar white patterns on it.
He sailed around the world on research vessels as a teenager.
Shortly after his departure to the band, it was rumored he was killed in a car crash, however that was not true.
He has many tattoos, but most are on his left arm, with only a couple on his right. He also has his entire torso tattooed.
His Youtube channel is "JeffreySonofLiberty", in which he posts his anarchist views on society.